The me2 Lisbon Pilot started in December 2016 and will end in May 2017, a duration of 6 months. It involves a community of around 50 members, including several EV users. Most of the me2 community members are municipality employees. The energy consumption of the households of all community members will be monitored. Smart meters (Cloogy) will be used to measure the total consumption of each household. Additionally, three smart plugs will allow us to monitor specific electric equipment like household appliances, and thus disaggregate the consumption.
me2 represents a web platform that helps you become more aware of your own energy consumption, regarding equipment at home or your electric vehicle (EV). The platform shows users their consumption by appliance and local or defined categories like heating or cooling. Based on predefined goals, community comparison, energy cost or peak hours, me2 will help users who are attempting to reduce consumption and improve their energy footprint with specific feedback and knowledge
During August and September 2016 the consortium developed and conducted a survey aiming for a better characterisation of the target subjects for the me2 pilot platform, running in Lisbon from December 2016 to May 2017. Survey feedback considered all of the given platform sections highly relevant (>70%).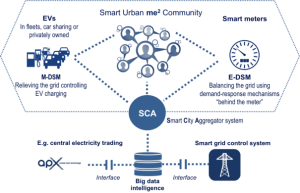 Projects like me2, which aspire to create innovative business models out of the emerging European electric industry, need to understand the various existing and evolving market players, the market design and regulatory issues in the sector. The next steps within the me2 policy report will attempt to summarize various factors, barriers and possible solutions in the existing EU electric industry to enable such viable business model developments.
More information can be found on the me2 website.